Exploring Miami's Vibrant Streets with Breeze Rider Ebike
Miami is famous for its beautiful beaches, lively culture, and exciting atmosphere, offering many exciting experiences. Moreover, exploring the city's streets and neighborhoods on a bike is an incredible way to immerse yourself in its charm. That's where the Breeze Rider Ebike comes in – the ultimate companion that effortlessly combines electric power with exploration. And it ensures a memorable experience of Miami's dynamic cityscape. In this blog, we'll explore the exciting features of the All Terrain Electric Bike while discovering hidden gems and unique encounters along the way.
Effortless Exploration of Miami Beach
Miami Beach is a must-visit destination for cycling enthusiasts, and the Electric bike takes it to the next level with its electric advantage. Powered by a strong 350W motor, this e-bike effortlessly propels you along Ocean Drive, offering fantastic views of the Atlantic Ocean. Cruise past the iconic lifeguard stands and feel the refreshing ocean breeze as you effortlessly glide along the beachfront. Thanks to its efficient battery system, the E-bike ensures long endurance, up to 70- 80 miles. So, it can allow you to explore Miami Beach and beyond without worrying about running out of power. Weighing just 23.24 kg, its lightweight construction adds to the ease of riding. And it makes it a breeze to maneuver through the streets and crowded areas.
Uncovering Wynwood's Vibrant Street Art
Miami is not just about the beach; it boasts diverse neighborhoods with hidden gems waiting to be discovered. With the electric bike, you can venture into Wynwood. It is renowned for its vibrant street art and trendy cafes. First, glide through the streets and admire the incredible murals adorning the buildings, each telling a unique story. Then, take a break at a local cafe, enjoy a refreshing beverage, and immerse yourself in Wynwood's artistic atmosphere. The e-bike's 10-speed gear shift system allows effortless adaptation to the neighborhood's diverse terrain. So it can ensure a smooth and enjoyable ride through Wynwood's vibrant streets. Besides, its responsive and efficient braking system provides enhanced control and safety, allowing you to confidently explore Wynwood's hidden corners.
Immersive Nature Escapes in the Everglades
The e-bike is the perfect companion for experiencing Miami's natural beauty. Discover the breathtaking Everglades by riding along the scenic trails of Shark Valley. You can ride your e-bike and observe this vast wilderness's unique flora and fauna. Feel a sense of tranquility as you glide past sawgrass marshes and spot alligators, turtles, and an array of bird species. Moreover, The e-bike has all-terrain tires, providing stability and grip as you cruise through the diverse landscapes of the Everglades. Besides, its lightweight and durable aluminum frame ensures a smooth and comfortable ride, allowing you to connect with nature in an exciting and eco-friendly way.
Captivating Cultural Journey in Little Havana
Immerse yourself in Miami's vibrant Cuban culture by exploring the colorful streets of Little Havana on the e-bike. You can feel the lively rhythm of salsa music as you ride past cigar shops and art galleries. You can also stop at Maximo Gomez Park, also known as Domino Park, and witness locals engaged in lively games of dominoes. Besides, indulging in authentic Cuban cuisine at one of the neighborhood's renowned restaurants is impressive. In addition, the e-bike's comfortable seat and ergonomic design ensure a pleasurable and immersive cultural journey through Little Havana. And its powerful 350W motor provides an extra boost, effortlessly carrying you through the lively streets and enhancing your overall experience.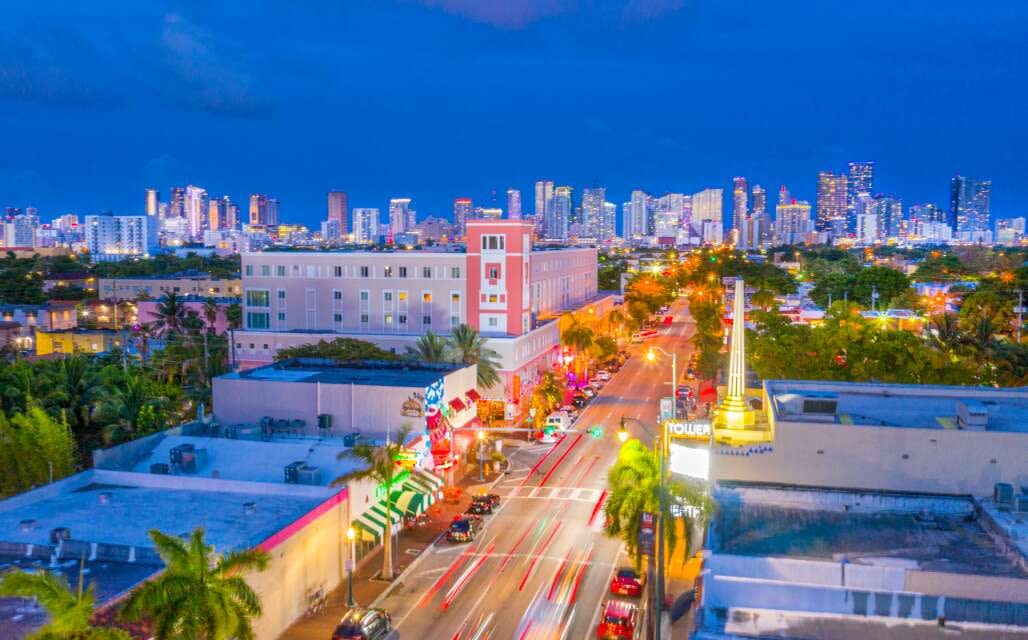 Conclusion
The All Terrain E-bike combines long endurance, a powerful 350W motor, a 10-speed gear shift system, lightweight construction, and all-terrain tires, making it the perfect companion for exploring Miami's vibrant streets. With its impressive features, you can effortlessly explore Miami Beach, uncover Wynwood's vibrant street art, immerse yourself in the natural beauty of the Everglades, and embark on a captivating cultural journey through Little Havana. So, hop with Breeze Rider Ebike, embrace the electric advantage, and embark on an unforgettable journey through the busy streets of Miami.